Learn the latest skills
Teach Coding, ICT and AI course sets forth the teaching of programming and AI technology to 1-6 graders with the Finnish pedagogical approach. It provides material and means to bring hands-on programming and understanding of AI into the classroom and curriculum according to the material prepared for and standards set by the Finnish national curriculum for primary education.
The course is organised in cooperation with Code School Finland.
The added value Participants have the extra option to get Code School Finland certification.


Upskill your organization
Target group are teachers for age groups 7-13 years old, the school management, and all other non-teaching experts and staff working in school education.
The course covers a wide range of topics that schools need to consider and tackle when introducing/updating and securing coding and robotics in their school:
Coding principles and motivation, basics coding concepts
Developing computational thinking
Best pedagogical practices in teaching about technology
Programming for grades K-3 and 4-6
Animations, game basics, game programming concepts
Robotics & embedded systems, principles and environments
What is AI?
Era of AI: What to expect?
Teaching about AI
Using AI for teaching and learning
Modern ICT skills: Staying safe in the world of technology
Hands-on implementation of a project suitable for own grade
Classroom visits
The course methodology foresees an introduction to each topic which is a mixture of trainer-led presentations and pair/group exercises, hands-on work during which the participants will make their own programming projects of programming and practice the concepts in different programming environments as well as classroom visit to a local school or code school premises, experiencing a programming class with selected age group.
Earn a certificate
The course participants will get a Certificate of Active Attendance.
The competences acquired will be validated by the course organisers on the Europass mobility.
What makes Euneos the leading course provider in Europe?
Euneos consistently rises to the challenge, empowering our clients with a wide selection of outstanding courses. We're committed to delivering excellence that meets the Quality Standards for courses under Key Action 1 and Rules of application, Annex I - Erasmus Quality Standards, as required by the European Commission.


On-site courses
Teach Coding, ICT and AI on-site courses take place in Oulu, Finland. The Teach Coding, ICT and AI are 7 day courses that start on Sunday afternoon and end on Saturday at 13:00 o'clock.
> planned courses
Northern Lights courses:
31 March - 6 April 2024, Oulu, Finland

10 - 16 November 2024, Oulu, Finland

2 - 8 February 2025, Oulu , Finland


Euneos has an international team of trainers who are the most experienced in the field of their expertise. Meet Euneos' trainers for the Teach Coding, ICT and AI course:
Main organiser /trainer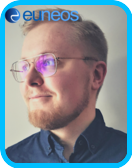 Jussi Koivisto
Head of Pedagogy at Code School Finland
Teaching concepts and pedagogy of programming, robotics and AI.
Euneos choice of venues is based on two essentials: delivering professionalism and assuring personal well-being in order to warrant enjoyable course experience.
Oulu, Finland